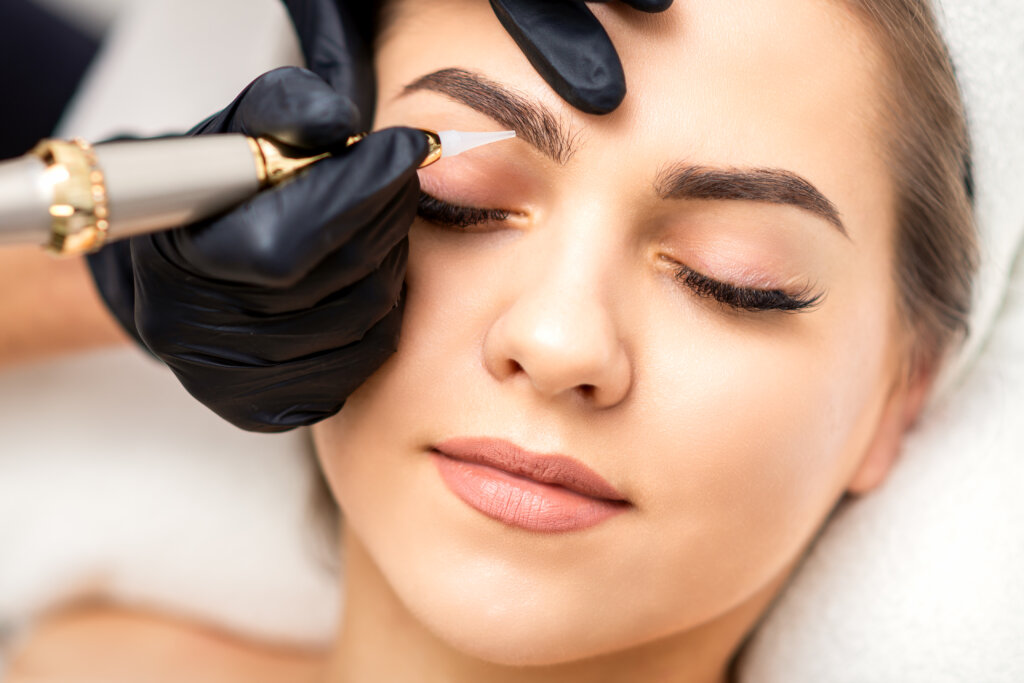 Hairstroke Eyebrow Creation

What are hairstroke brows?
Hairstroke brow application is a semi-permanent makeup technique that adds pigment into the top layer of skin underneath your eyebrows.
With the hairstroke technique, patterns of overlapping hairs create a more natural, less-groomed look. Hairstroke marks will create a unique pattern that mimics the look of your natural eyebrows. The pattern will build in intensity towards the middle of the brow, creating a hyper-realistic effect.
Hairstroke brows are suitable for everyone, but the effect will be slightly different on oily skin. Schedule a consultation with us to find out which treatment is most suitable for your skin. 
Regardless of your skin type, annual touch-up appointments are recommended to keep the colour and design fresh.
There is no scarring or discolouration from the hairstroke treatment. Without follow-up applications, your brows will fade naturally over time.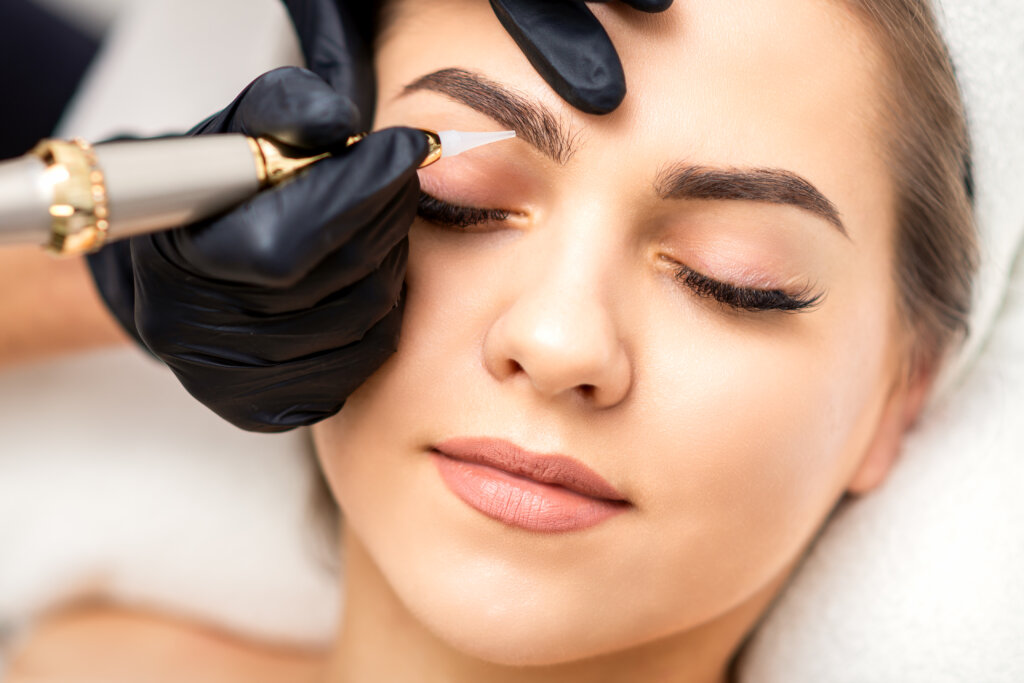 Why choose hairstroke brows?
If you'd like to skip the fuss of daily makeup for your brows, a semi-permanent solution might be the fix for you.
The hair stroke technique creates a realistic-looking brow compared to other treatments. For a softer, subtler look, this would be the way to go.
Hair stroke application is also less harsh on the skin than microblading. This makes it an ideal choice for mature or sensitive skin.
Is it painful?
For most of our clients the hairstroke application is relatively painless. The needle movement should feel like a light scratch on the skin. 
Some clients even fall asleep during the procedure!
However, pain tolerance is unique to each individual. If you experience any discomfort during your appointment, feel free to speak up to our artist, who can adjust for you.
What to know about your hairstroke brow appointment
Process time: 4 hours

Effect lasts: 12 – 24 months

Do not consume alcohol 24 hours prior to your treatment 
At your first appointment, our artist will start by applying a numbing cream, followed by eyebrow mapping and drawing. Planning out the brow design before applying any pigment helps find the right brow placement and ratios to suit your face shape.
Before application, the artist will either choose or mix a pigment to match your natural hair colour. The artist will then tattoo wispy, overlapping brow hairs onto the mapped area. 
During the application, you will feel a light scratching from the needles. On a scale of 1 to 10, with 10 being the most painful, most clients rank this sensation as a 3.
It usually takes 5 to 7 days for the brows to heal. Expect to see scabs developing on the application area for about 3 to 4 days, and then 2 to 3 days of peeling after.
Aftercare
To protect your new brow treatment, follow these steps:
Avoid getting any liquid on the brows for 3 days

Minimise sun exposure for 1 month

Sunscreen can be applied over the brows once they heal
Follow-up
It's crucial to have a touch-up session within 4 to 6 weeks after your first appointment.
Our artist will make small adjustments to the hairstroke treatment as needed and ensure your new brows are in tip-top shape.
For questions about our hairstroke brow service, feel free to reach out to us. We'd be happy to speak about your options and benefits of this treatment.
By Lauren McCue